So nice to see Christophe
Published 04 April, 2016
It was lovely to see Christophe and his mother up here in Portree. Christophe was a good work colleague who shared some time with myself in my old engineering business as a French work experience student. Christophe now teaches and undertakes research on Aerospace composites in Brest, France. His mother had travelled from Troyes, a town south of Paris famous for the imprisonment of Joan of Arc and also beautiful Chocolates.
Here we are (from left to right Christophe, Jonathan and Pauline) on the morning of their departure.
We wish them well on their travels around Scotland and hope to meet up in France in a year or two!
Thanks for coming!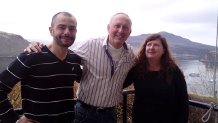 Archive
2020
2019
2018
2017
2016
2015